GRIEF: The Lonely Road
A Widower's Journey Toward Hope
by Marvin Petsel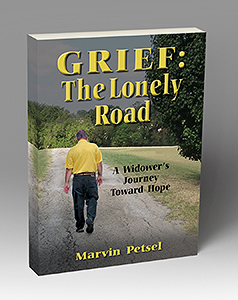 Grieving widowers are told all the wrong things: Pull yourself together. Be strong. Don't cry. If your wife has died and you have heard these words, or ones like them, this book is for you. Written in a conversational way by someone who has suffered the pain of grief, it includes topics that provide both comfort and understanding of:
Ways to deal with men's mourning and grief.
Stories from other grieving widowers.
Ideas to help overcome loneliness and sleeplessness.
Methods to work through the pain and begin a new chapter in your life.
When his wife died, the author didn't know how to cope with the grief and mourning. It didn't seem manly to talk about his feelings, so he hid the pain and concentrated on his work. Ultimately his experiences of loneliness, finding new friends, and opening a new chapter in his life led him on a journey of personal growth. This book is a record of his experiences and that of seven other men. The author also provides valuable insights from several leading grief counselors. Working through grief is not easy and there is no cookie cutter answer as to how to deal with it. You may have heard of stages of grief, but as the author has learned, there are many different steps or tasks to face and they will occur in no particular order or intensity. Grief and mourning are individual, each of us must deal with it in our own way. This book will show you how several other men have worked through it.
Buy Your Copy Of GRIEF: The Lonely Road Today!
AUTHOR AVAILABLE TO SPEAK
The author would be happy to speak to your club, group or association regarding his experiences as a widower. Contact us using the contact page.